As an academic, my summers have always looked very different from the rest of the year. Contrary to popular belief, I do not have them "off" in the sense that I don't work. On the work front, I usually run a STARTALK Summer Program in June, and spend the rest of my work hours writing articles, and towards the end of the Summer preparing for Fall classes. The Summer is also the main season for Highland Dancing, with summer games in Arizona and Colorado (including one competition I run at the end of June), the U.S. Championships at the end of July, and the World Championships at the end of August. We also usually take a trip to visit my family on the East Coast, so my kids can hang out with their grandparents, aunts, uncles, and cousins. To make all of this work, I need a pretty solid plan for the Summer, and so I follow the same routine for planning my Spring and Summer semesters. I'm hardly the only one to recommend planning an academic summer, and you can get other ideas of how to plan an academic summer from Cathy Mazak, Tanya Golash-Boza, and Raul Pacheco-Vega.
Needless to say, this summer looks very different than other summers. Our STARTALK program is postponed to 2021. One conference was canceled, and another has gone virtual. All the dancing events are canceled. I was on the planning committee for the U.S. Championships that were going to be in Denver this Summer, so this is perhaps the most heart-breaking, but I will miss all of my Summer activities. I'm not sure I've ever had a Summer where I haven't traveled somewhere, even if it was only a few hours drive away. It's also looking uncertain whether or not there will be Summer Camps/Daycare (and if there were, would I feel comfortable sending my kids?). While there's less uncertainty than in the Spring (because everything is canceled) there's still uncertainty around what we will be able to do. Will we be able to resume in person dance classes? Go to the gym? Celebrate my kids birthdays with small groups of friends?
So despite all the changes and uncertainly, I still made my summer plan, which you can see below using my semester planning sheet. For things that are uncertain, I basically made plans for both options, or decided to go with the most challenging option and be pleasantly surprised if this isn't the case. So for my dance classes, I made a fully remote and hybrid option we can switch between based on public health orders. For daycare/camp, I set up my ideal week plan for the situation of not having them, assuming it will be easier to accommodate to suddenly having more free hours than less.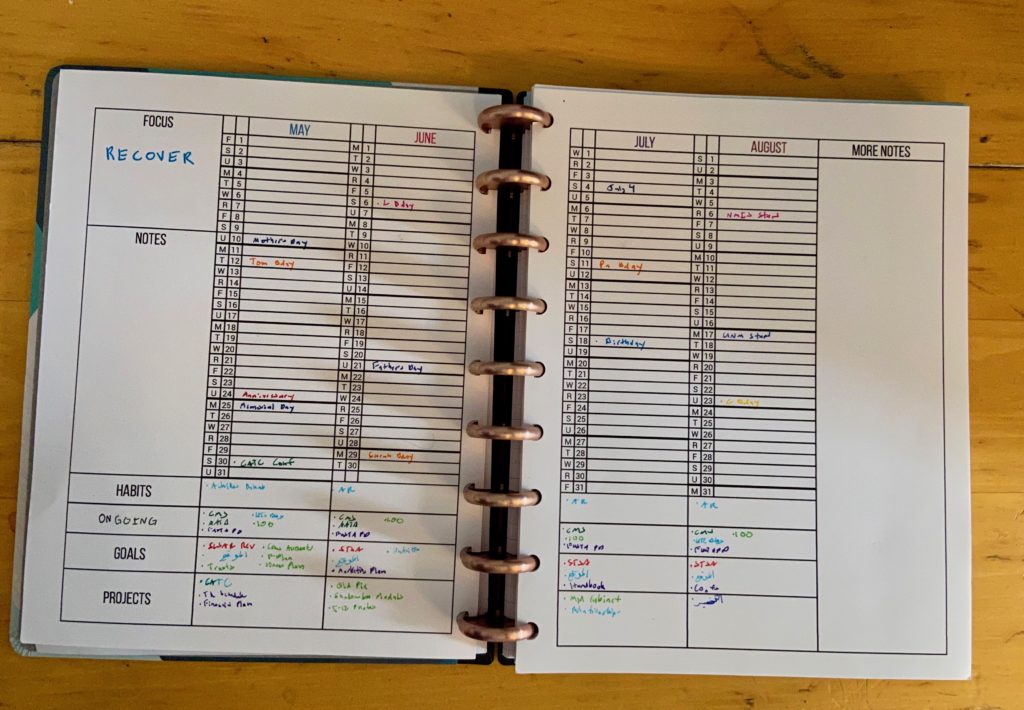 Then, I can slot the projects I can actually work on (writing articles, rehabbing my achilles tendon—I'm now down to one crutch!, making a parent handbook for my dance school, and so on) into the time available. Will I need to change these plans? Almost certainly. Yet, as I've discussed before, having a solid planning process makes it easier for me to make adjustments, because I can stick to the system, if not the actual plans themselves.
Do you plan your summers? How are you planning this pandemic summer?